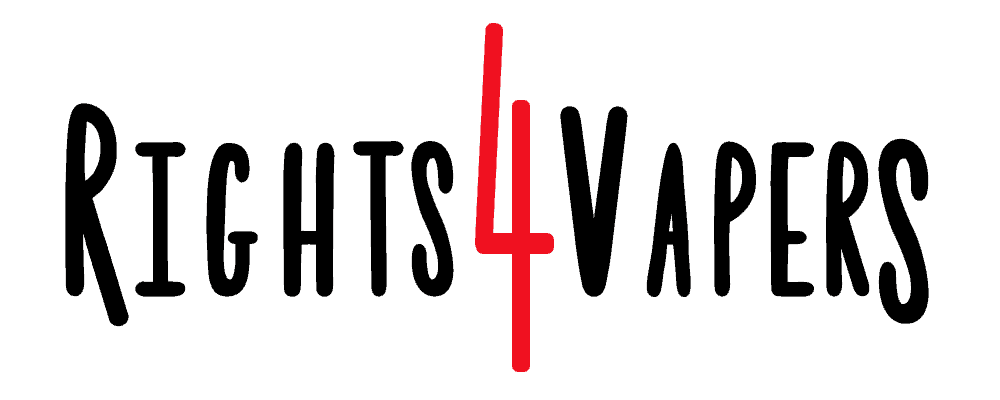 PRESS RELEASE
FOR IMMEDIATE RELEASE
NEW BRUNSWICK LUNG ASSOCIATION CONTINUES
TO ATTACK VAPOUR PRODUCTS WITH MISINFORMATION
Toronto, Ontario – May 20, 2021 – Vapour products are not combustible. They do not produce smoke. And, nothing is added to make the liquid combustible. These are the facts. If the New Brunswick Lung Association is truly concerned with reducing lung disease, they should learn these facts and stop spreading misinformation.
"A spokesperson for the New Brunswick Lung Association continued the ongoing attack on vapour products and vapers by telling CBC Radio listeners that manufactures add chemicals to vapour liquid to make it combustible. This is verifiably not true," said Maria Papaioannoy, spokesperson for Rights4Vapers, Canada's largest vaper consumers' organization. "The New Brunswick Lung Association is okay with lying to make sure that smokers quit their way… and only their way."
In an interview on CBC Radio (St-John) on May 18, 2021, Barbara Walls, Director of Health Promotion at the New Brunswick Lung Association said, "We are not meant to inhale anything other than oxygen into our lungs and so we can pretty it up and say it's this and say it's that or say this is not in it. We are still taking a liquid in vape products adding things to preserve it, there's actual chemicals put in there to make more smoke, and to make the liquid combustible"
CBC should uphold their journalistic obligations and fact check claims like this before spreading them. Canadian smokers who are looking for a way to quit smoking will be turned off vapour products after hearing these kinds of falsehoods. The Lung Association has an obligation to know the facts and the CBC has an obligation to report the facts.
"There is an ethical obligation in public health to avoid misleading the public, and misinformation such as claiming vaping liquid is made combustible falls far short of that standard," said Professor David Sweanor, tobacco harm reduction expert. "This is particularly concerning when a spokesperson for the Lung Association misinforms the public in ways that will dissuade people from switching from lethal cigarettes to a non-combustible alternative. After all, it is the inhalation of the smoke from the burning of tobacco that is the cause of a very large majority of the lung disease deaths that group claims to be trying to address."
Canada needs to look at countries like Britain that have taken a forward-thinking approach to vapour products. Public health authorities in England, like the British Lung Association and the British Heart Foundation, acknowledge the harm reduction opportunities of vapour products.
The New Brunswick Lung Association should have another look at their mission: protect lung health. All New Brunswickers, including legislators, should pause and re-examine all information that has been presented to them about vaping from this organization.
There is a great moral issue when a public health organization chooses to present fiction as fact to help their end goal of removing a reduced harm choice from those addicted to nicotine in New Brunswick.